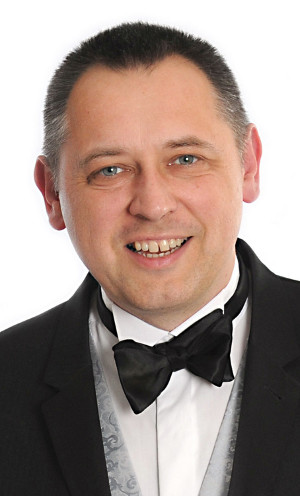 Paul Wellicome
Bass
Arts or sciences?

Engineer. I create things, so I am an artist; I work in engineering research, so I am a scientist.

What's your daytime job?

I crash cars to determine how safe they are and analyse the results and all this so that you can drive in just the way that you do.

When and where did you start singing?

In the shower, 6.30am this morning, much to my partner's disgust. Allegedly, I sang the main theme of the Gloria from Puccini's Messa Di Gloria at a school concert when I was in reception class. It's been downhill ever since.

What's your favourite choral piece of music?

I have catholic taste and appreciate clever twists, so singing Rihanna's Umbrella in a do-wop style with reharmonised underlay is, for me, as entertaining as Bach. Chant gets a good look in as does early polyphony. Given the time, going to hear Postmodern Jukebox, Barenaked Ladies or the Baseballs is as likely as a trip to Symphony Hall to hear classics.

What are your hobbies?

I compose music: one of my compositions was sung by 55000 voices during the visit by Pope Benedict XVI in 2010 at the Mass for the beatification of John Henry Newman at Cofton Park, Birmingham.

I play various sizes of clarinet, saxophone and recorder… basically, if I can put it in my mouth and blow it, I will :) … and then there's piano… guitar… bass guitar… and a couple of choirs.

I make cheese and brew wine. This explains my physique.

Wine, beer or spirits?

Why choose? Beer and pizza, wine and steak, spirits in cocktails; what's not to like?

What is the airspeed velocity of an unladen swallow?

What do you mean? An African or European swallow? Surely, the answer depends entirely on which soprano is doing the swallowing.