AdiEU!
Saturday 16th March 2019, 7.30pm
Collegiate Church of St Mary, Warwick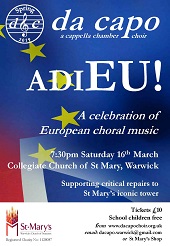 A celebration of choral music from around Europe.
With just two weeks to go, Da Capo marks what may be the end of the Brexit era with a tour through the many musical styles and languages of the European Union. Sacred and secular music for everyone, with no politics!
Featuring music by Monteverdi, Bach, Ravel, Pärt, Kodaly and many others.
All proceeds to the restoration fund for the landmark tower of St Mary's.