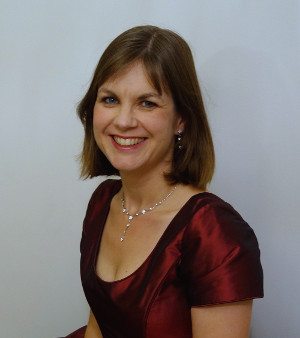 Kirsteen Robson
Soprano
Arts or sciences?

Arts — I did a Music degree.

What's your daytime job?

Three days a week (and snatches of time in between) I am an editor at Usborne Publishing. Since joining in 1997 I've written and edited all kinds of children's non-fiction books, ranging from colouring, puzzle and general activity books, to sticker books, dictionaries and encyclopedias. In a fairly typical week I could be juggling mazes, holiday activities, dot-to-dots, castles, gnomes, a world religions encyclopedia and a science encyclopedia revision. The other days I spend with my lovely, lively daughter, juggling Duplo, naps and nappies.

When and where did you start singing?

I am told, in church, at the age of 18 months, standing on the pew singing 'alleluia, alleluia' to all the Easter hymns.

What's your favourite choral piece of music?

Singular?! Impossible. Current favourites are Monteverdi Vespers, Bach's B minor Mass, Handel's 'Dixit Dominus', Rachmaninov Vespers… Bainton's ' And I saw a new Heaven', Stanford's 'Beati quorum', Brewer in D, Darke in F, Rheinberger Mass in E♭, Eric Whitacre's 'Sleep', Vaughan Williams' 'Lord, thou has been our refuge', Britten 'Hymn to the Virgin'… I'd better stop there.

What are your hobbies?

Singing (obviously!), patchwork, reading (especially Plantagenet and Tudor history, 'quasi historical' fantasy and books recommended by friends), family history research.

Wine, beer or spirits?

Full-bodied Australians. What was the question again? Wine.

What is the airspeed velocity of an unladen swallow?

42. No, wait, it's Monty P, isn't it? Ni!